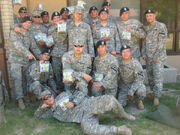 The Royal Ottonesian Republics Imperial Mass-Destructive army of Glory often Abbreviated as RORIMDAG is Ottonesias Main-Army.
Their High-Commander "Missfire" Omarsson has been in the army for aproxximately 54 Years and has achieved numerous Medals and Bages.
Operation Ice Cream Pony
Operation Ice Cream Pony was the Code-Name for the operation in 1992 involving killing as many Indians as Possible. a Nuclear drop bomb was also used with the exact same name - Ice Cream Pony. However not such a glorious achievement but then again.
Operation Breakfast Included
Operation Breakfast Included however was a Extraoridnary achievement in 2002 Involving Executing Indian ex- Sex Slaves. The soliders accomphlised this with both their hands tied to their backs and a bandana preventing seeing.
The ROPIMDAG encoded Alphabet
A - Anus
B - Beaverbill
C - Cylinder Omar
D - Dead
E - Emo
F - Fatty
G - Gay
H - Hairy Balls
I - Indians are Gay.
J - Jaaay!
K - Kbry
L - Lame and/or LEEEROOOOY JEEENKIIIINSSS!
M - Mamma!
N - Ninja!
O - Omar
P - Per-Sigurt
Q - QUUUUAAAAAD!
R - Ronny
S - Super Ragnar
T - Tattar-Ernst
U - Umar (allternativ stavning på Omar)
V - Vladimir
W - WACKA WACKA
Z - ZINK